About STEP Africa
STEP Africa – Exchange for Change (
S
tudents for
T
anzania
E
xchange
P
rograms) is a Tanzanian social enterprise that was founded in German-Tanzanian cooperation. We offer a
variety of volunteer projects, internships and culturally sensitive trips
in Arusha, Northern Tanzania. With our programs we contribute towards international understanding and want to provide our participants with an intercultural and global ability to act. As a sustainable organization, together with our volunteer, we support worthy projects and initiatives in Tanzania.
We know what we are talking about! Our team combines qualifications and many years of experience in the fields of tourism, education and social work in Tanzania. Our friendly and qualified supervisors are always there for you on the ground, here in Arusha.
Our volunteers and interns live in a total of three volunteer houses. All houses are centrally located in Njiro, Arusha, from where the projects can be easily reached. The accommodations are also not far from each other, so that volunteers can visit each other and spend time with the residents of the other houses at any time. We organize regular barbecues, which take place alternately in the respective houses.
Our "headquarters" in Arusha is the STEP Africa house on Rashida Street, where our office is also located. However, our volunteer supervisors divide their time between the various houses so that our volunteers are well looked after at all locations. Housekeepers our "Mamas" work in each house, who are responsible for the cooking and the cleanliness, together with their substitute as well as our night watchmen and gardeners.
What our volunteer accommodations have in common is that they are in the middle of Tanzanian life, in a central yet quiet location. Bus connections, restaurants, cinemas, pharmacies, supermarkets and numerous other shops are located nearby, the city center can be reached in just 10-15 minutes by bus. All of our projects can be easily reached from here. In the STEP houses you will always meet like-minded people with whom you can exchange experiences and collect new ideas for your project. A typical Tanzanian breakfast is served consisting of white bread and black tea and other side dishes such as eggs, fruits and mandazis (Tanzanian baking specialty) and delicious local dishes for dinner (vegetarians / vegans are served for separately!). We want you to feel comfortable in our accommodation, which is why we attach great importance to friendly interaction and a family atmosphere. In the cozy yards and gardens you can relax from work and the sometimes stressful African everyday life.
The STEP Africa houses each consist of dorm rooms with bunk beds as well as double rooms / private rooms. There is also a kitchen with its own refrigerator for our volunteers, oven, bathrooms, a common room equipped with comfortable sofas and TV, as well as a covered dining area outside.
Short Info Tanzania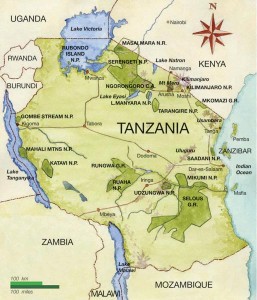 Tanzania is a federal republic with John P. Magufuli (CCM) as the president. The capital of Tanzania is Dodoma, but the industrial center is the city of Dar Es Salaam. Tanzania has approximately 56 million inhabitants who belong to 130 different tribes. The national language is Swahili with English as the second official language. Tanzania is a developing country and many people live below the poverty line. The main economic activity is agriculture as 80% of the population live in rural areas away from the big cities. The second major industry is the tourism sector around the national parks across the country which creates hundreds of thousands of jobs.
About Arusha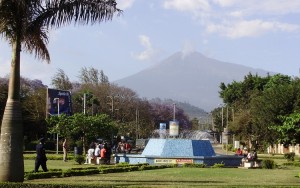 Our programs take place in and around the city of Arusha in northern Tanzania. Arusha is the tourist center of Tanzania, since numerous safaris to the northern national parks depart from here. Accordingly, there are numerous hotels and lodges in Arusha and also restaurants and supermarkets have adjusted to western visitors. Arusha is often referred to as the "Geneva of Africa" as it is seat for the Arusha International Conference Center, Headquarter of the East African Community, the UN Tribunal for the Rwanda Genocide and the African Court for Humans and Peoples Rights. Nevertheless, Arusha has remained a tranquil city where you will soon feel at home. Arusha is also known for its music scene, Bongo Flavor Music is known far beyond the borders of East Africa and many well-known singers started their careers here. Arusha City has approximately 400,000 inhabitants. The city lies at the foot of Mt. Meru, also known as Kilimanjaro's little brother. Tanzania is one of the safest travel destinations on the African continent.
Get in touch with us – we are happy to hear from you!
We offer you the opportunity to volunteer in meaningful projects in Tanzania or to gain valuable professional experience during your internship and experience African everyday life up first hand. We firmly believe in the power of change through intercultural exchange. With our programs we promote and demand equality and cultural tolerance. We know and love Tanzania like no other country and can tell exactly what is important when organizing your stay. Our team is already looking forward to welcoming you to Tanzania!
Our contribution to development is that we bring people of different cultural backgrounds together and thus promote a mutual dialogue. We support initiatives and projects in Arusha in the most sustainable way possible.
"WE ARE LOOKING FORWARD TO ACCOMPANY YOU THROUGH YOUR TIME IN TANZANIA!" Behind STEP Africa stands a motivated team of permanent employees who are always there for you in Arusha! You can find our team profiles further down on this page.
What many of us have learned about Africa in the media doesn't always reflect the truth. In Africa there is more than just poverty and misery. Tanzania is a country full of ideas and resources, politically stable and of breathtaking beauty. Experiencing everyday life in Tanzania is an adventure in itself that is above all a lot of fun! Our programs are based on the principle of learning with and from each other in an increasingly globalized world. Broadening your horizons and looking outside the box is one of the most valuable experiences that will shape your future life. A trip to Africa opens your eyes to other realities and perspectives.
+
Meaningful Volunteering
We only place our volunteers into projects in which they can gain a lot of valuable experience for their future. Our volunteers do not replace local workers. Volunteers are assistants who offer support to employees and e.g. perform tasks where there is otherwise not enough time for.
+
Discover unique wilderness
The landscape of Tanzania is one of the most beautiful in Africa with the endless plains of the Serengeti, the breathtaking Ngorongoro Crater and Mount Kilimanjaro. In addition to our volunteer program, we therefore offer selected group safaris, mountain tours and day trips to the most beautiful places in northern Tanzania. This offer is aimed both at participants in our programs and at travelers who do not want to pay high prices for a classic safari vacation.
We are not a huge organization with worldwide branches. Our programs focus exclusively on the Arusha region in northern Tanzania. We prefer to avoid expensive advertising and glossy brochures and therefore offer you individual support on site by our team. This is a big advantage for you. Because this way we can offer you very fair fees, we do not have expensive administrative structures. Therefore we can offer our employees in Tanzania fair wages and a secure job; And an unforgettable time for you!