---
Hello my dears,
My name is Theresa Gärtner, I am 25 years old and thanks to the lockdown and my short-time work in January 2021, I had the opportunity to fly to Tanzania for 6 weeks and support Step Africa in one of the many great projects!
I registered with Kira on January 13th, 2021 and it started on January 26th, 2021. The whole organization up to departure went perfectly! Kira answered all my questions very quickly and took all uncertainties and fears away from me in advance, so that only the anticipation remained! During my entire 6 weeks on site, both Kira and Upendo were always there for me – whether it was about the project or other matters! They were both a tremendous support for all volunteers and help, support and take care of everything and everyone – you just feel in good hands and at home right from the start! The other volunteers also welcomed me from the bottom of their hearts, we did a lot together and were able to talk to each other about everything, even if someone was not doing so well! This sense of community, which everyone felt from the beginning, was and is a huge enrichment in my life! Not everyone makes you feel like you are in the right place at exactly the right time – Step Africa does!
I was able to get to know the HIMD project in the 6 weeks and immediately felt accepted. The people who work on the project are all very warm, competent and friendly – all my ideas were immediately accepted with joy. I was allowed to get a taste of every single HIMD project, but also to work independently on the website and design a new flyer. The Rescue House was particularly close to my heart, for which I started a fundraising campaign to buy the women a new bed. Kira and especially Upendo gave me huge support in organizing the fundraising campaign, with the purchase process and delivery – everyone involved at HIMD and all the women in the women's shelter were thrilled and touched – just like me! It is incredibly nice to know that you have contributed a very small part to a better life for women – even if it is only in the form of a bed!
Overall, everything worked perfectly in the 6 weeks! The food was always delicious, the accommodation clean, the staff all super friendly and helpful – in this sense, many thanks to Betty, Hilda and our two "night watchmen" =) The entire organization at Step Africa is just great, Kira and Upendo are as a contact person always there and open to every problem, no matter how small, and have a solution ready immediately!
I left Step Africa with one crying and one laughing eye and would come back again and again – and recommend everyone to go there once! I can't really put it into words, one thing might be the best: UNFORGETTABLE! It was a really indescribably wonderful time and most importantly: it is not only a project for the people and organizations there, it also enriches you – I would not want to miss this experience!
Asante sana
– to all the volunteers who made my time indescribably beautiful!
– to Kira, Upendo and the whole team for a wonderful time, a loving and safe home and great support over the whole time – you are doing an incredible job!
– to all employees at HIMD, your great support in all matters, your fantastic, important work in this area and your ambition and courage not to give up!
– to all the girls and women in the Rescue House who welcomed me straight away, told me their stories and who have the courage and courage to take their lives into their own hands and write their own story!
You have all enriched and changed my life! Thank you – Asante sana! <3
---
---
Hello! I am Gülsade, 27 years old and from Vienna. I am a primary school teacher and worked as a volunteer at Twiga Vision for almost four weeks in July.   The time in Arusha was unforgettable for me. The project, the people, the city, the other volunteers and the whole Step Africa crew were amazing. Some volunteers have even become friends in this short time and they have grown very close to my heart!  Twiga Vision is a preschool in Mianzini, which mainly cares for children from difficult economic and social backgrounds. I worked there most of the time with two other volunteers, Anna and Hannah. There are many ways to help: in class, kindergarten, breaks, administrative activities, and so on… Since I work as a primary school teacher in Vienna, I made a fundraising appeal in my school before the summer.
With the collected donations, we have created a new learning and resting area for the children on site, visited families and provided them with essentials. We set out to find sponsors who are willing to support children who cannot attend school for financial reasons. Even today I am actively looking for sponsors in Vienna.  Daniphord, the headmaster, Oliva, Shedrack, and all the other employees of the Twiga Foundation, are very committed and support you wherever possible. I'm still in touch with most of them.
The hostel of Step Africa is in a beautiful area, my project was very easy to reach. With the Daladala you can be in the city center in no time. Kira and Upendo were always there when you had questions and always had a solution. Even when organizing a safari, Kira was at our side with advice and deeds.  Upendo is always there for you and helps with every matter. The food tastes super delicious! Hilda and Betty are great cooks. There are both local dishes and international cuisine such as pasta.  The rooms were cleaned regularly and were always clean. Also the bathroom was always clean and I really miss the beautiful garden with the hammocks!   I cannot put into words the time in Arusha. It was just unforgettable. It was an indescribably beautiful feeling to have so much normality in times like this, when there is a state of emergency all over the world. Of course, in front of almost every shop there was the possibility, or the obligation to wash hands, and in public buildings like banks one had to wear a mask.
At first I was unsure if I would take the trip despite the Covid-19 pandemic. But the uncertainty was short, I didn't have to think long: I want to help people as volunteers – if not now, when? Although people's handling of the pandemic is not the norm compared to the rest of the world and was very loose – and a bit unusual from the outside – I felt very, very safe in Tanzania. People take the situation seriously, but unnecessary panic is avoided here. As far as possible, hygiene is taken care of everywhere, but everyday life continues!  I am already planning my second stay and am already looking forward to it!
---
I'm Gioia, 22 years old, I'm studying medicine at the University of Zurich in my second year and I'm a volunteer at Tengeru Hospital. I started my volunteering in July and will be in Arusha until mid-September.
Project: In the hospital, the Covid-19 rules are mainly followed by the patients. They practically all wear masks and wash their hands when entering the building. The employees are not that strict, although this varies from ward to ward. Some stick to the rules meticulously, others less so. Personally, I always wear a mask during my stay in hospital, especially to protect others. Tengeru Hospital currently has no Covid-19 patients. There is an isolation room though. However, tests are mainly carried out in other hospitals. [Note STEP: COVID19 samples are currently only being taken in two hospitals in Arusha, which are then sent to the central test laboratory in Dar Es Salaam for evaluation. One of these is the public Mount Meru Hospital in Arusha. The Tengeru Hospital or Meru District Hospital is a branch of the Mount Meru Hospital.]
During my work as a volunteer, I get an insight into various areas. I started at the Minor Theater (emergency room for minor injuries), where I immediately felt comfortable. The doctors are very open and nice, showed me how to put on bandages, how to remove them, how to sew wounds and I was also allowed to assist with minor operations, such as removing a lipoma. I found the Female and Male Ward (inpatients) a little less exciting. I took part in the ward rounds, but since they were held in Swahili, I didn't understand much. When I asked, the doctors explained to me in English what it was all about, but I couldn't help much. It was interesting, however, that many diseases occur that are less common in Europe. Now I am curious which areas I will still see. In the traineeship, I am sure that more initiative is required than I am used to. But you can do more to help than at home and you will certainly learn a lot in the process. But this also requires more patience, as the Tanzanian way of life is a little more easy going and more disorganized than that of Europe. But you learn to deal with it and you can adapt accordingly.
Hostel: At the moment the hostel is a little less occupied than in non-Covid-19 times, but we don't think that is a bad thing as we have a little more space. We all get on really well. We have already made several trips together, such as a safari and trips to the waterfall and hot springs. All with few tourists, which was lovely. The staff at the hostel are all very welcoming and you instantly embrace them. Betty and Hilda cook great food, Upendo is there for all our other issues and small worries and Jordan the night watchman ensures that we can sleep peacefully. Kira always has an open ear when problems arise in the project and helps wherever she can.
During this very special time of Covid-19, I like that in Tanzania, normality has mostly returned and everyday life here goes on rather calmly. I also appreciate that there is no unnecessary panic. I can warmly recommend Step Africa. The city of Arusha is the ideal size so that I quickly found my way around. The people of Arusha are super friendly and helpful. I think it's nice to get to know another country and it's exciting to have to find my way around another system.
---
---
My time in Tanzania was one of the best experiences I have ever had. At the beginning it all felt new and different, but after just a few days I had settled right in the middle of Tanzanian life: shopping at the local market, riding daladala and pikipiki were quickly part of my everyday life. Kira and Upendo, who were always there for us and always had an open ear, also greatly contributed to this. A big thank you also goes to Betty and Hilda, who always spoiled us with good food. I have become so fond of everyone and I am sure I will be back as soon as possible!
At my projects I always felt in good hands. The work gave me a completely different insight into Tanzanian life. Working with the children at the Cradle of Love and the girls and women at Pippi House enriched my life so much that it was more than hard for me to say goodbye.
A huge Asante Sana to all the people who made my stay in Tanzania so unforgettable and beautiful!  – Laura
---
Tanzania With STEP Africa – Attention: Unforgettable!!!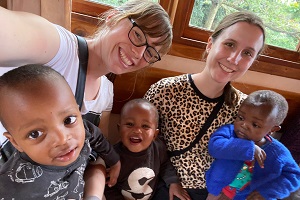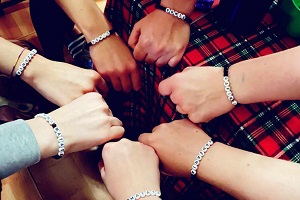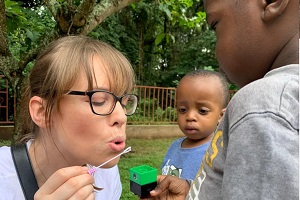 It all started in June 2019 when I fell in love with this country and its wildlife, but also the people there. I had traveled to Tanzania for the animals, but I wanted to return for the loving people. I found out about STEP Africa over the Internet. I was immediately impressed by the great projects and the STEP Hostel. Since I also work as a preschool teacher here in Germany, I was naturally interested in working with small children in Tanzania. So I chose the "Cradle of Love" project. And what should I say? My time there was simply unforgettable. Both in the hostel and in the project, I was surrounded by wonderfully nice and loving people.
The two "house mamas" Betty and Hilda who spoiled us volunteers in the hostel with local dishes, our "night watchman" Jordan and of course Upendo and Kira, who we were allowed to ask every question and who do their work with so much passion and motivation. I shared the hostel room with several other volunteers, who I already miss very much. These people grow very dear to you because everyone has come to a foreign country with the same goal. We were able to sit down in the evenings and tell each other about our experiences in the project. At the weekends we explored Arusha together or went on excursions. – Like a small "hostel family"! I was able to get actively involved in my project. The Tanzanians are simply great people who welcomed us volunteers with open arms and were happy and grateful for every helping hand. A little initiative is required but my ideas and suggestions regarding offers for the children were always appreciated. Also the children at "Cradle of Love" are just happy about receiving lots of time and love from us 🙂
Unfortunately, my time in the project was shortened by Covid-19 and I had to leave the hostel a little earlier than I wanted. Nevertheless, I hope that one day I can come back to this great "family". #itsnottimetosaygoodbye #itsaseeyoulater
Are you also interested in Tanzania / Arusha and STEP Africa? I can highly recommend that to you !! But ATTENTION: unforgettable !!!
– Pia
---
Anna (MaY-JunE 2019, JanuarY – MARCH 2020)
I'm Anna, and I went to Arusha, Tanzania with STEP Africa in 2019 and 2020. I've always wanted to go to "Africa" ​​and volunteer there. Through a friend I came across StepAfrica and in 2019 I was in Arusha, Tanzania for the first time and fell in love with the culture, country and people and especially the children of the Mwanga Children's Foundation.
For me, the stay abroad in 2019 was the first long trip and my first stay abroad that went beyond the "typical two weeks of summer vacation".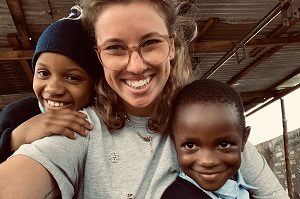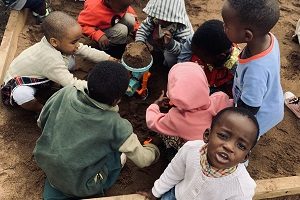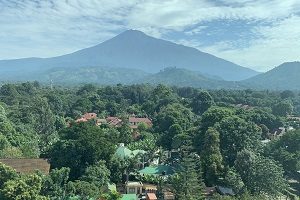 Hostel Life
My biggest concern was that I would be overwhelmed sharing my room with total strangers or not finding any friends. This worry was totally unfounded. I was warmly welcomed by everyone and instantly felt as a part of the step community. In the volunteer house everyone is in the "same boat", when I came home after a hard day I could exchange ideas with people who understood me. Because often friends and family from home have difficulties to really understand the experiences you make as a volunteer because they are so far away. But even if you do not feel like meeting other people and prefer to be alone for a moment, there is always a place in the house where you can be on your own and nobody takes it against you. On the weekends the volunteers cater for themselves, there was pizza baked with the whole hostel or we went out to eat together. Of course, everyone could always decide what he / she wanted. I got to know super nice people in the StepAfrica Hostel and also found new friends with whom I went back on my second stay in 2020.
Betty (cook) and Upendo (supervisor), the "good souls" of the house, were on site almost every day. If we wanted to go into the city and needed directions, Upendo explained the way to us or, if there was time, accompanied us. I found it particularly positive that we always had someone to seek help and advise, but at the same time we were also super free in what we did when in Arusha. This made it very easy for us to find our way around the city on our own. Kira, the organization manager, was also there almost daily and, even if she was not at the hostel, was reachable 24/7. She has an answer to almost every question. Especially when it comes to matters related to the project or cultural matters, you can ask Kira for advice. There is also a very friendly relationship between Kira, Upendo, Betty and the volunteers, which I personally found very pleasant. I was in good hands at all times, safe and, above all, comfortable.
Arusha
If I had to describe Arusha in three words it would be: exciting, loud, lovable. Arusha itself is not the most beautiful city I have ever seen, but despite everything, Arusha has a lot to offer and is particularly well located for excursions.
After work I enjoyed driving the Dala (minibus) into town and meeting friends. There are many small cafes and restaurants with a nice atmosphere where you get the best fresh juices I've ever had. I also loved strolling through markets like Kilombero or Central Market. Although it is very noisy and often dirty, I liked to watch the daily life and be part of it. There are the tastiest fruits (especially mango and pineapple) and also vegetables for sale – for a very affordable price. I have never had a bad experience with people, most people in Arusha are very open and above all nice and talkative. I thought that was great, because I don't know this mentality from Germany and I am a very communicative person myself. Of course, you should always be careful with strangers, as everywhere, in spite of everything and adapt to the cultural circumstances (e.g. knee-length dresses / skirts / pants) and above all respect the culture.
At the weekend you can go on great trips. There are hiking groups that you can join and e.g. hike to the Arusha waterfalls. You can also be at the hot springs near Moshi within 1.5 hours reach. Even longer trips e.g. to Lushoto are possible. Not to forget the unique spots where you can enjoy sunsets with a cool drink or just lie by the pool for a day.
To get used to life in Arusha you should above all walk through town open minded and without prejudices. For my part, I think it is a city that is very diverse and through its people and culture shows a character that I like very much.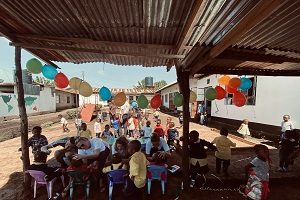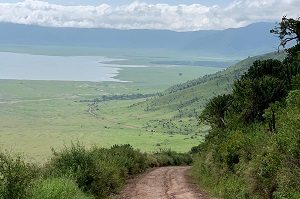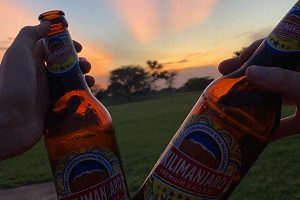 The Project
I worked for the Mwanga Childrens Foundation both times I was in Arusha. I was overwhelmed by the project and the warmth of the project manager Saidi, the teachers, the cook Mama Isma and above all the children. I myself was able to continue to drive the project forward with my donations. I started construction projects and gave the children joy with little things (e.g. a carnival party with face painting). Shortly after my return to Germany it was clear to me that I would go back again for a longer period next year. Half a year later I was back in Arusha and in the Mwanga Children's Foundation. It was great to see what happened in such a short time and how many children had found sponsors in the meantime. What I find great about the Mwanga Children's Foundation is that Saidi involves you in everything and this "not only" has to do with the children. You become part of the project and carry out the daily tasks together with Saidi and contribute to new ideas and projects. In addition, you work with the teachers and support them during lessons and breaks. The project is a matter of the heart in which you can get involved and implement a lot and get to know a lot about culture, country and people in addition to the project work.
Tips
Restaurants/Cafés: Georges Tavern, Kitamu, Fifi's, Njiro-Complex, Zeze-Lounge, Safari Bistro, FlipBurger,
Lodges: Impala Hotel, Mount Meru Hotel
Shopping: Njiro-Complex, AllMart, Shoppers, Kilombero/Central-Market, Second-Hand Market, Massai Market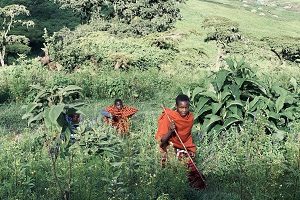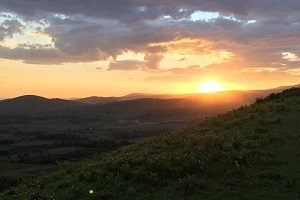 ---
Moin moin! My name is Leonardo and I was in Tanzania for six weeks from mid-October to the end of November 2019. As a prospective medical student, I definitely wanted to go back to Tanzania after I finished high school and I say "again" because I had already had an exchange with my school in Dar Es Salaam two years earlier on the subject of waste recycling, which I liked so much that I went back to this fascinating country. Because of my interest in medicine and volunteering, I came across Step Africa and the project at St. Elizabeth Hospital pretty quickly.
And I can already tell you that, despite the rather short time, I felt comfortable very quickly and I'm already looking forward to visiting the hostel again.
Due to my second visit to Tanzania, my worries to be honest were not too big. But still I can say that any fears are completely unfounded. From day one, all volunteers and members of the organization will welcome you to the Step Africa family.
Life in the volunteer house is of course something new for everyone, but always having people by their side who come from the same culture helped me a lot with the integration. The afternoons and evenings were mostly spent playing games together in the living room or outside, while we were also exchanging information about the time in our project and our experiences there. And through this I could meet many nice people and new friends with many of whom I am still in touch after my stay.
In addition to the volunteers in the house, I grew extremely fond of Betty and Upendo during the six weeks. Both were always there for us and pretty much answered all the questions I had to find my way around. During the week Betty took care of the catering in the hostel with the specialties from the Tanzanian kitchen, Upendo is responsible for all the other tasks and was always open to our concerns. Especially when it came to directions within Arusha or getting used to the projects. Due to their very positive nature, Upendo and Betty have always made the atmosphere at the hostel very entertaining and fun.
In addition to Upendo and Betty, Kira, the head of the organization, was of course always available as a contact person 24/7. Especially when it came to matters related to projects, culture in Tanzania or other problems, we could always contact Kira. What particularly stuck to me was the friendly relationship between Upendo, Betty and Kira, which of course ensured that you always felt in good hands, safe and always at home.
As I said before, I found it a very unique opportunity, as a prospective medical student, to have the chance to work at a clinic like the St. Elizabeth Hospital. Thanks to Step Africa everything was well organized right from the start and I never had any problems finding my way around the hospital. The hospital staff were all very nice and were always interested in my experience that I made in the hospitals in Germany. They were open to new suggestions and always took the time to explain things to me.
However, it is also important to know that the doctors at St. Elizabeth Hospital also had a much more personal way of dealing with you if you had already completed training in the medical field (paramedic, nurse, etc.).
As a volunteer, I was able to choose certain areas where I would like to work. These included the Medical Ward, Pediatric Station and the Private Ward where I was mainly responsible for the vital signs and patient care. However, the tasks in the Surgical Ward particularly appealed to me. There I was usually allowed to work with other volunteers to change the dressing and clean wounds. We were also sometimes allowed to go to the operating room to support the doctors with births, among other things.
---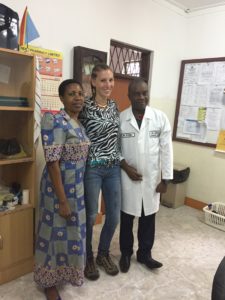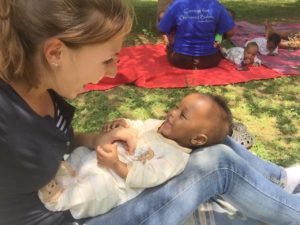 Thank you very much for the incredibly great experience that I had with STEP Africa and the support of the entire team in Tanzania. My stay with you has been unforgettable. A great preparation by you, with no question or email unanswered. Great organized trips and tours and a great introduction to the completely different but very lovable African life and everyday work in the projects. I have never felt unsafe or left alone by you. I never would have thought that 4 weeks could be such a short and at the same time such an intense time. The work in the projects and the great acquaintance and experience I was able to make were formative, unforgettable events. Asante sana! Inga
---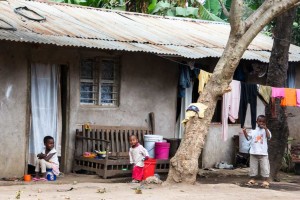 My time in Arusha is a few months ago already, but I will never forget it! 4 weeks of adventure, chapati, mandasi, swahili and more .. In the first days of the 4 weeks I thought they would never go by, a few days later I wished they would never go by. The atmosphere in the hostel was always good, the work in the projects helped to really experience Tanzanian life. Squeezed together in the Dalla or in the back of the Piki you could go anywhere, and if you missed the European food there was still the Africafe. There was so much new to see and experience, just the different lifestyle, in which everything is lived a little more relaxed and "decelerated", simply pole-pole, was an experience in itself. My highlight was climbing the Ol Doinyo Lengai. The whole safari was like all other trips; well planned and the local guides had a lot of experience and were very nice. The trip was indescribably great and I would definitely do it again! Asante sana. Kind regards, Mona
---
Now I've been back in Germany for 3 days and I miss the country and the people very much. I would like to take this opportunity to thank you for the wonderful, incredible, exciting, eventful three weeks. It was a great time with many new impressions, experiences and situations that I will never forget in my life. The safari, the waterfalls and the hot springs were indescribably beautiful. A big thank you to the entire STEP Africa team for the smooth running. Thanks to you, Kira, the preparations were all great, I always got an answer to my many questions quickly. I was also warmly welcomed on site. I always had a contact person. Thanks again to the Olorien Community Clinic! Dr.Byemba and his team received me very warmly. I've seen everyone exude great joy at work and the whole team does a great job. I like to remember the time and hope to be able to travel to Tanzania again soon. Asante sana! Kind regards, Monique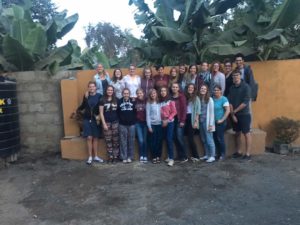 ---
Hello Kira, I just want to thank you for the wonderful time I had in Arusha! It is incredible how hard your team is working to make sure we are doing well. Thank you and best regards from Tirol 🙂 Jaqueline
---
Now I'm back in cold Germany. My internship confirmation was already on my desk 🙂
I want to thank you again. I had the time of my life with you. The best days of my life were in Tanzania. And your organization contributed so much to that time! You have built something very, very special there and I have a huge respect for that. You have always been there for me in every situation, even if it were only the most trivial questions, and helped me. Kira, you gave me a second home with the STEP hostel. I will never forget my time with you and will always remember it well. I will definitely come again!
See you soon and thank you very much! Kind regards, Nelly
---
Dear Kira.
Now I am back home for 5 days and yet my thoughts are still in Tanzania.
Therefore I would like to thank you and your team for everything. Especially for spontaneous use for the transfer to Arusha Airport. Kira, I think it's great and admirable how you manage your organization and how you work for so many different tasks. It is certainly not always easy to take care of the wishes, concerns and complaints of so many people and to satisfy everyone as best as possible. And we Westerners are used to our requirements being met.
I wish you, your family and all employees all the best, health and peace. Maybe we see each other again. I will definitely remember you well.
Best regards, Ilse
---
I wanted to report again on departure – now the time has come;) I'm sitting at the airport in Dar es Salaam with a laughing and a crying eye, I'm looking forward to seeing Australia, but I'm also quite sad to leave Tanzania. I had a wonderful, enriching time here and met a lot of great people. – And will definitely come again 🙂 I hope everything is fine in Arusha, greetings to everyone – Asante sana! 🙂 Charlotte
---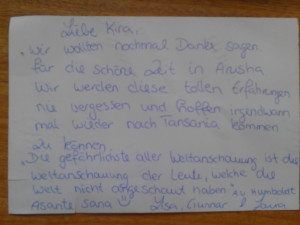 We wanted to say thank you again for the great time in Arusha. We will never forget these great experiences and hope to be able to return to Tanzania someday.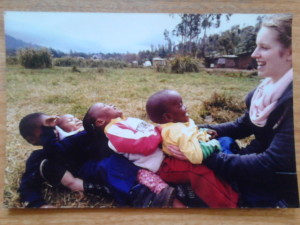 "The most dangerous of all worldviews is the worldview of people who haven't viewed the world." (A.U. Humboldt)
Asante sana 🙂 Lisa, Gunnar & Laura
---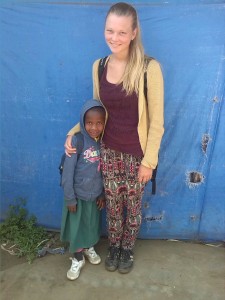 Now my weeks here in Tanzania are already over and I am really sad to have to say goodbye today. I wanted to take this opportunity again to say thank you! Thank you for the great preparation and the great accompaniment. For always having an open ear and even answering the 981375th question in a friendly way.
It's really admirable how you do all this. I look forward to continue hearing from STEP Africa.
All the best for the future, Greta 🙂
---
Thank you so much for the last 6 weeks I've been able to spend here! I learned so much, met nice people, gained experience and got to know a beautiful country. Good luck, you are doing a great job here and you have wonderful projects! Kind regards, Theresa
---
I'm currently sitting at Arusha Airport and have reviewed the past few weeks. I would like to thank you so much for my fantastic stay, the good organization and your support. It's amazing that you give us volunteers the chance to support the projects and gain many great experiences while charging a comparably very low amount. And the safari was such a great ending to it all! Big praise to Ilary (is that how you write it? :-)). He did it really well, was able to answer all questions and responded to our needs and Mister D is the best cook in Tanzania 🙂 Thanks for the internship certificate, I received it. Asante sana! Kind regards, Carina
---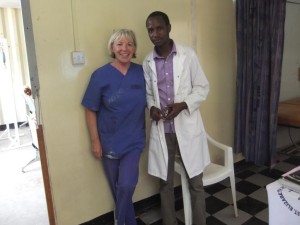 Dear Kira and the whole team at the Step Africa House,
I arrived home safely and want to thank everyone for the great time I had in Arusha. I thought one has to be a bit crazy if one, like me, does something like this at the age of 57 .. that's what went through my mind on the day of departure but I had the courage and a little bit of Africa experience from my previous stay in Uganda.
My dream project: I really wanted to work at a clinic, since I have been a nurse for many years. You, Kira, answered all of my questions and endless emails and were / are very reliable in "German style" and not pole pole which contributed a lot to my decision. First of all, I have to emphasize that the "YOUNG" volunteers greeted me with open arms and that we really had a lot of fun. Despite the generational difference, I felt super comfortable and learned many new card games.
In the St. Eliszabeth Hospital I was welcomed with open arms and passed on to my first point of contact, Joseph, who was the surgery assistant. He showed me the entire clinic and from then on I could look into almost all areas and wards. I helped care for HIV positive pregnant women; was present during the doctors rounds, helped with plaster casts, supervised the patient reception (like in an emergency room), dressing changes and x-ray diagnostics + therapy (that's also my field of work back home). All clinic employees were open-minded and made my stay easy for me, although I only speak little English, but with previous medical experience it was not very difficult for me to understand (technical terms are international). Medical care is not comparable to western standard, I have to be clear about that. But our system would not fit into Tanzania either. The people here have a lot of patience and feel a bit more humble. Treatment is rather symptomatic.
I also want to stress out our 3 day safari tour. There were five of us (girls) and our guide Hillary who even spoke German. We had endless fun together and laughed a lot. Our guide had an answer to every question and showed us photos if we didn't know a particular animal. He had a great knowledge of the national parks and wildlife and also a great sense of humor. The accompanying chef Mister Dee prepared a perfect breakfast, dinner and packed lunch for us and everything was well organized. A highlight was also a visit to the Masai village in a group of 6. Here, too, we had a lot of fun together and we almost had to leave a volunteer behind because the first Maasai wife had chosen her as a new wife for her husband !!!
I could tell so much more about the time that it would go beyond the scope. In any case, I tell you all AHSANTE SANA for an unforgettable time in Africa.
Yours Heike
---
I Just had to Fall in Love with Tanzania!
It was inevitable, I just had to fall in love with Tanzania! With the loving people, the culture and the incredibly impressive landscape.
My project was amazing and exceeded my expectations. The head of the orphanage and all other helpers were just so welcoming that I quickly felt at home. The two teachers were also very warm and I felt very comfortable. Especially in those moments when I just felt like crying because most of the children have a really sad past, the warm nature of the Tanzanians strengthened me a lot.
I also loved the opportunity to spend the night at the project where I could gain a completely different insight into the lives of the children. The children are all so happy and cute that makes it very difficult to say goodbye.
I am very grateful that I had the opportunity to fly to Tanzania with STEP Africa and to fulfill my biggest dream. I can only say that time has passed far too quickly and I want to come back to Africa as soon as possible! I would also like to thank Kira again, who has always had an open ear and is a blessing for Tanzania together with her family. Kwa Heri!
-Sira
---
Hello Kira, thank you for the certificate! The safari was great and I got home well. Thank you for the wonderful time that you made possible for me. It was really a great experience and I would do it again anytime. Greetings, which of course are also addressed to all volunteers and staff,  Karolin
---
Hello Ms. Uher,
Thank you again for being so welcoming and looking after us well! It was really a very intense and impressive time! Thank you for the opportunity to get to know everything. We have now arrived safely and now I have to work again … Many greetings to everyone and THANK YOU! Eberhard and Maria Barbara S.
---
Many, many thanks for the opportunity to become part of the Step Africa family and to get to know Tanzania. I really enjoyed my time here and saw and experienced a lot of new things – sometimes unexpected. Both the life in the host family and in the hostel each have their own charm and was a nice experience. And thank you very much for the nice contact both before and during your stay, it was great to have a direct contact person who knew the conditions on site and always had a good advice to give.
Good luck with the project and much respect for how well you manage and organize all of this!
Best Regards Anne
---
"It was over way too Quickly"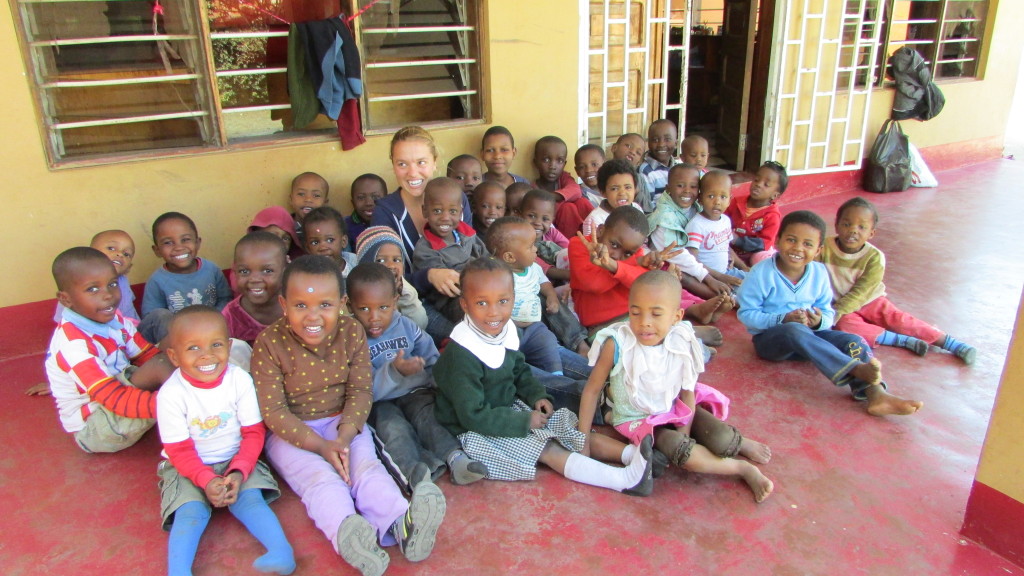 Dear Kira!
I wanted to thank you again for the great organization. I enjoyed my time in Tanzania so much and would have loved to stay much, much longer! It was over way too quickly! Being home now feels very strange. I'm still overwhelmed by the right-hand traffic and I already miss the Tanzanian way of life and "chillness" in all situations very much. Three people called me to greet me, they all wanted to schedule meetings with me. I was completely perplexed.
You really have built a great volunteer organization in which you can feel comfortable and in good hands. I am glad that I discovered you by accident! I wish you all the best for the future! I am sure that with your attitude and your work you will still achieve many successes and that you can do a lot of good.
Asante sana!! 🙂 Warm Regards from Austria,
– Lena
---
"Asante sana!!!"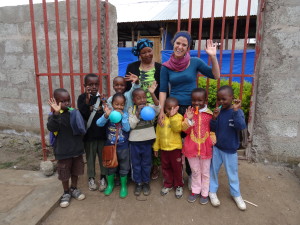 My time in Arusha was simply a unique experience for me and unfortunately it was over much too quickly. I was allowed to teach the Baby II Class in East African and learned a lot here. Even though the time here was very intense in terms of impressions, it was just as nice, fun and exciting for me. I really miss the kids very much!
I felt very comfortable in the hostel and thank you for always being available as a contact person. The safari and the Moshi tour were particularly well organized and will be remembered forever. Thanks also to the "mamas" who provided us with wonderful culinary delights. I very much hope that I will come back to Tanzania someday and look forward to seeing you in Arusha!
– Brigitte
---
"Great Organization"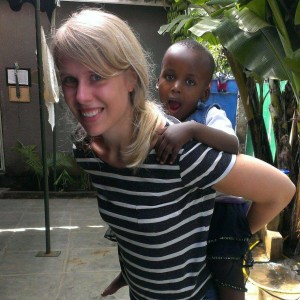 Great organization, great projects and I felt very well prepared in advance by the handbooks. Thank you Kira for always listening to questions. I'm often thinking back to you and my time in Tanzania.
– Kristin
---
"I Miss the Project and the Kids so much"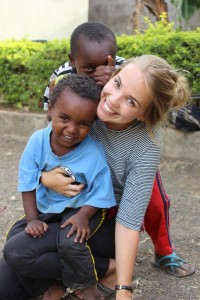 I am now back home for sometimes and settled in well. It's funny how quickly you get used to life here again. Nevertheless, I now see a lot of things from a different viewpoint and generally approach life much more consciously. Life in Arusha changed me – but in a positive way. I owe that to you too, Kira. So at this point: many thanks for your great organization! I was able to rely on you at all times and always felt welcome.
I really miss the project and the kids so much. It's really unbelievable how often I look at the photos. I am already planning my next trip to Africa …
– Vanessa
---
"Pole, Pole"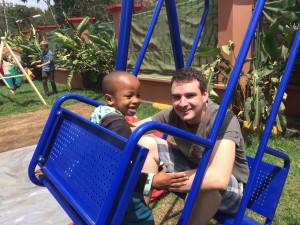 Excerpt from Tobias' evaluation sheet: The support by STEP Africa is very good. I had the feeling that I could make a meaningful contribution to my project by teaching and building a well. [Would you like to do international volunteering again?] Yes, it is super interesting to learn from other cultures. You get a much better insight than when traveling through a country. You also learn a lot more about the challenges that the local people face (e.g. education). [What did you personally learn about the ways of life in Tanzania / a developing country?] Pole, pole. Sometimes it is easier not to think too far ahead, but to think step by step. Many people have far less than in Europe, but still laugh and exude a friendliness. Particularly positive: you take more time for each other. I would call myself more tolerant after my assignment. [Were you able to overcome the Swahili "language barrier"? Yes, the language course and the children helped me a lot.
– Tobias
---
Excerpt from Janik's evaluation sheet: The handbooks gave me a good overview of my future work tasks, but also the living conditions here so I was very well prepared. [about his project]. After initial difficulties regarding the prevailing structure and a few days of familiarization, I was very satisfied with the project, as it challenged me and I gained a lot of new experiences. Sam the director was our contact person, but a lot of initiative was required. I worked about 5 hours a day from Monday to Friday. The work as a "teacher" of Baby Class 2 was challenging and rewarding at the same time and seeing the children's learning successes during my time gave me the feeling of having achieved something. The project is very meaningful! The project still needs a lot of support, but care should be taken to ensure that, especially financial, help arrives at the right place. [about support by STEP Africa]. I felt very comfortable from the moment I was picked up at the airport, so I was able to get used to everyday life very quickly. The support during my time here was excellent, so I never felt unsafe or uncomfortable. In the event of problems / ambiguities, communication was always available and therefore very helpful. [Accommodation in the STEP Africa house] Any problems such as a lack of electricity or water were solely due to external circumstances and were compensated for as best as possible. In addition, the price / performance ratio in the house was extremely good. The food was always delicious. Mama Nora did a lot of work and the house is modern and well equipped. Although the project was a little further away from the house, I saw it as an opportunity to gain even better insight into people's everyday lives, which was important to me. [About volunteering in general]. I would volunteer again anytime. The time here in Tanzania, including volunteering, everyday life and culture, was a very enriching experience for me, which gave me new thoughts and perspectives. I have gained a new level of independence as well as self-initiative / commitment and thus a bit of maturity. As I was only able to provide a little bit of support as a short term volunteer, the focus was on gaining experience. [General].
The Moshi Tour was very successful and a very nice distraction from everyday work. […]. I find it astonishing to see how little many people posses and how difficult their living conditions are and yet they happily walk the streets and hardly complain. In some cases I was a little disappointed with the way the locals deal with whites regarding financial support or when bargaining prices. On the other hand, I was thrilled with the local calm and calmness with which things are dealt with and hope that I can take some of it back with me. I think that in the course of my work as a volunteer I have adopted a more open-minded lifestyle. The language course gave a nice insight into the into the culture of the people in Tanzania, which made the day to day life a lot easier. "
– Janik
---
"I Learned many new things"
There is so much to remember. I met a lot of nice people and friends here. On the one hand, I will never forget spectacular things like the view from the Irente View Poin in Lushoto, the sunrise at Lake Manyara or the wild animals on the safari. On the other hand, I am sure to remember funny evenings in the hostel or in ViaVia (bar & restaurant in Arusha).
The support through STEP Africa was always great, you always found an open ear! I really enjoyed my time in the project and got to know a lot of new things. I also particularly liked the safari and the Moshi tour. I have felt very, very comfortable in the past three months and have never been bored.
My advise for other volunteers: Don't stress yourself too much before the trip and be open-minded to everything new! Don't forget your vaccination certificate if you are planning a trip to Zanzibar.
Many thanks for everything!
– Clarissa
---
Our STEP Africa conclusion:) We are very happy to have done a volunteer project in Tanzania and look back on an eventful and exciting time. We were warmly welcomed in Arusha and felt comfortable in the hostel right from the start. The family atmosphere and the exchange with other volunteers always gave us a good feeling and was a compensation after some exhausting days in the project. Thank you Kira for your effort and your individual support. You have helped us with so much commitment and warmth in Tanzania and in the projects. We liked it both at Mama Kevina and at the Padre Pio Nursery School. The children are excited about new games and handicrafts. We were also at St. Thomas Primary School, where we could teach our subjects. We particularly recommend teaching students to work in a school to get to know a completely different education system on the one hand and to gain experience on the other. You have the opportunity to try out your own ideas and teaching methods. With a dose of creativity, openness and initiative, everyone can find their place in the projects and experience a varied time in Arusha. Thanks to Aaron we were able to experience great trips on the days off. The safari in particular was an absolute highlight and will always be remembered. We wish you continued success in combining volunteering and travel in your organization. THANKS for an unforgettable time !!!
– Hanna &  Sarah
---
"Thanks so much for the beautiful time!"
Thank you so much for the great time! The atmosphere was very familiar and we felt very comfortable. Thank you for all your efforts to fulfill our wishes. Our highlights on the weekends were the Moshi tour and the Tarangire National Park on our three-day safari. The "hot" springs on the Moshi tour were pure holiday feeling :-). At Tarangire NP we were particularly impressed by the landscape and the diversity of the animals. Thank you Aaron for all the time you spent on all the trips! Pippi-House (Ines): varied, tasks can be searched for yourself, warm, easy. Samaritan Village (Steffi): very well equipped, independent children / adolescents, warm atmosphere. Thank you Kira for choosing the projects and for suggestions and your support. We really appreciate how much time and personal commitment you have invested in us. All the best for the further development of STEP Africa.
Yours Ines & Steffi
---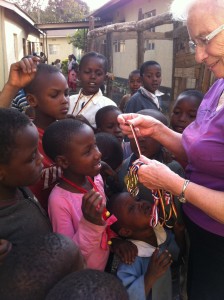 At the end of August 2014, I participated in the Step Africa volunteer program in Arusha, Tanzania, for four weeks. I have had a very good experience with the organization and support from Step Africa. I already had extensive email communication with Kira Uher in advance. Ms. Uher explained all my questions regarding the procedure, the accommodation on site, the health precautions, travel arrangements and the necessary formalities (such as visa etc.) in detail and supported me perfectly in every respect. Above all, she encouraged me that even at my age (78 years) a stay in Arusha could be an enrichment for everyone involved, provided I of course felt fit for such a trip.
The welcoming by the sisters of the Catholic institution was extremely warm. I felt very comfortable there. We laughed and danced a lot together.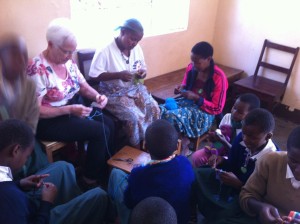 The center looks after children from disadvantaged and very poor families who are barely able to make a living on their own. In the afternoon about 50 children aged 2 – 14 years came to the center after school to get lunch and care. I played, tinkered and sang with the children. I was able to teach the mothers some crocheting. In the mornings the sisters took me to other social projects and home visits. This is how I got an insight into the lives of some Tanzanian families.
The stay in Arusha was an enrichment for me! And now I also maintain good and warm contact with the sisters of the Mama Kevina Center. I would like to thank Kira Uher and her staff for the good and individual support before and during the implementation of the project.
-Renate
---
"A second Home"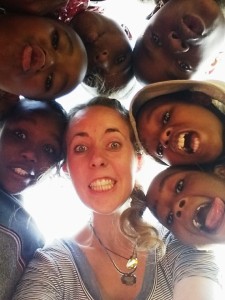 Dear STEP-Africa-Team
Now I am back in Germany and I am very happy to have my friends and family around me, but I miss you, the Sisters and the kids a lot !!! The time there was just wonderful! The Sisters were very kind and warm and the children were really looking forward to us and the games every day … of course I was as well ;-). You could say it was a second home. In addition, we have discovered great places with you, such as Hot Springs and Ndroro Waterfall in Moshi and one of the Kilimanjaro gates, and with your help we were able to experience a wonderful, breathtaking safari to the Ngorongoro Crater and Lake Manyara. It was a great time with you and I hope to see you again as soon as possible!
Warmest Regards, Anna
---
"It was a fantastic time"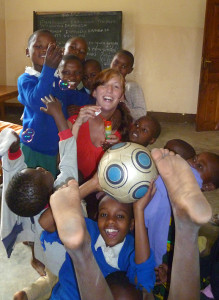 Now I have returned to Germany, have been in daily grind for a week and it would be nothing better than to be with the MamaKevinaKids! Already in Dar, when the two took me to the airport and they traveled on to Zanzibar, I thought: I would much rather see Arusha and the kids again than spend more days on the beach!
It was a fantastic-really indescribable-great time at the Mama Kevina Center: The Sisters were soooo nice and kind and take you in as warmly as if you were at home. The children are so incredibly great and no matter whether I understood them linguistically or not, every hurdle was overcome communicating with hands and feet. 🙂
I would fly back anytime!
-Ann-Kathrin