Convince yourself! We would be very happy to see you soon in Tanzania. Karibu sana! (You are warmly welcome) – your STEP Africa Team
Fee Overview for All volunteer Programs:
The STEP program fees are significantly lower than fees from other organizations. As a Tanzanian organization our entire team is directly on site, eliminating complex administrative structures or agency fees. An experienced and friendly team of Tanzanian and German coordinators will accompany you through your time in Arusha. 
We would like to offer you the highest level of personal support here in Tanzania, where you will need us the most! With the help of our programs we support many meaningful and sustainable projects.
---
Application Fee:
150 €
Program Fee – Step Africa Volunteer House:
110 € / Week
---
The standard accommodation for our volunteers are shared rooms in our two STEP Africa volunteer houses in Arusha (program fee see above). A limited number of private rooms is also available. There is also the possibility to stay with our host family. The program fees for these alternative accommodations per person are staggered as follows:
Program Fee – STEP Africa House (Single Room): 190 € / week
Program Fee –  Host Family: 150 € / week
All fees include all taxes and fees under Tanzanian law.
Services Included:
Project / Internship Placement according to your wishes and ideas

STEP Africa – Volunteer Guidebook and access to online volunteer Area

Preparation by our team

Visa support

Airport transfers both ways (Kilimanjaro International and Arusha Airport)

Orientation day in Arusha and project introduction

STEP Africa T-Shirt

Accommodation with breakfast & dinner from Monday to Friday

24/7 emergency contact

Our team members are by your side as contact persons / problem solver / idea givers and more throughout your stay.
Not Included:
Flights (from $ 700 both ways), Travel Insurance (from $ 15 / month), Humanitarian Visa ($50 for first 3 months, $ 300 for up to 6 months), pocket money, vaccinations (many domestic health insurances cover parts of the travel vaccination costs), PCR- / Rapid Tests
Particularities:  
Additional Fees for Medical Placements: Volunteers who want to work in the medical field must pay an additional fee directly to the hospital. This varies depending on the clinic and is at least $ 150 per month (Tengeru District Hospital) and maximum $200 per month (St. Elizabeth Hospital). The medical fee is not billed in advance but must be paid in cash to the respective hospital management on the first day of the assignment. The money is used in full to cover running costs of the hospitals.
Donation to animal welfare project: $ 100 / month. The Mbwa wa Africa Animal Shelter asks all volunteers for a minimum donation of the above-mentioned amount, as with the increasing number of dogs and cats looked after, the food and veterinarian costs rise rapidly. With the help of donations by volunteers, at least part of these running costs can be paid. The donations can be handed over directly to the animal shelter.
Project combinations are free of charge. Stay for all programs is at least 4 weeks and due to visa restrictions a maximum of 6 months (26 weeks)!
Become a STEP Volunteer – Apply now
---
Swahili Language Classes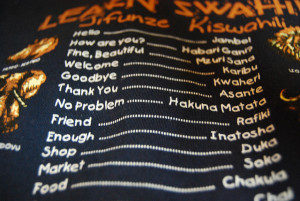 At regular intervals, our Swahili teacher comes directly to our volunteers at the STEP Africa house. The language course takes place in a cozy atmosphere during evenings. We recommend all of our volunteers to take part in this ongoing course, as experience has shown that language skills are quickly gained and communication is easier both in everyday life and in the project. The fees are significantly lower than those of other language courses offered in Arusha. It is not necessary to pre-register for the course. If interested, volunteers are divided into a group on site. Payment is always made at the end of the month according to the hours actually completed. Intensive language course possible on request! Course fee per lesson: $ 8
COVID-19 INFO: Tanzania requires a valid vaccination certificate or negative RT-PCR Test upon arrival into the country and a further rapid test if you arrive from a high risk country (WHO definition). The situation in the country is under control and life is not impacted by restricting measures. Project work and Tours take place without limitations. Some of our projects require the wearing of masks and / or a valid COVID-19 vaccination. For further announcements and news, please also follow our social media channels and don't hesitate to contact us at any time!